Disclosure: In the interests of full disclosure, although we didn't have to pay for the lights, we are not being paid for the review and Hella Australia is not an advertiser of LastXplorer.
Bright enough?
Hella known the world over for producing quality lighting solutions for vehicles have recently released the Hawk range of Lightbars to suit 4WDs and heavy trucks.
I have a confession to make, I'm a bit of a light whore. It's not that I'm afraid of the dark it's more I like to be able to see really well once the sun dips below the horizon. Truth be told I also really like the look of high mounted lightbars on 4WDs and am a big fan of the associated benefits that a high mounted light can bring, especially when off-road.
With this in mind a few months ago I was asked if I'd like to try out a set of 470mm Hella Hawk light bars. I say set because unlike the usual single bar you see nowadays the Hella's ideally come as two smaller units, each with 16 high-performance LEDs. The lights also come in a smaller 350mm length which have four lens types – driving, pencil, wide and narrow, whereas the 470's come in two varieties – driving and pencil.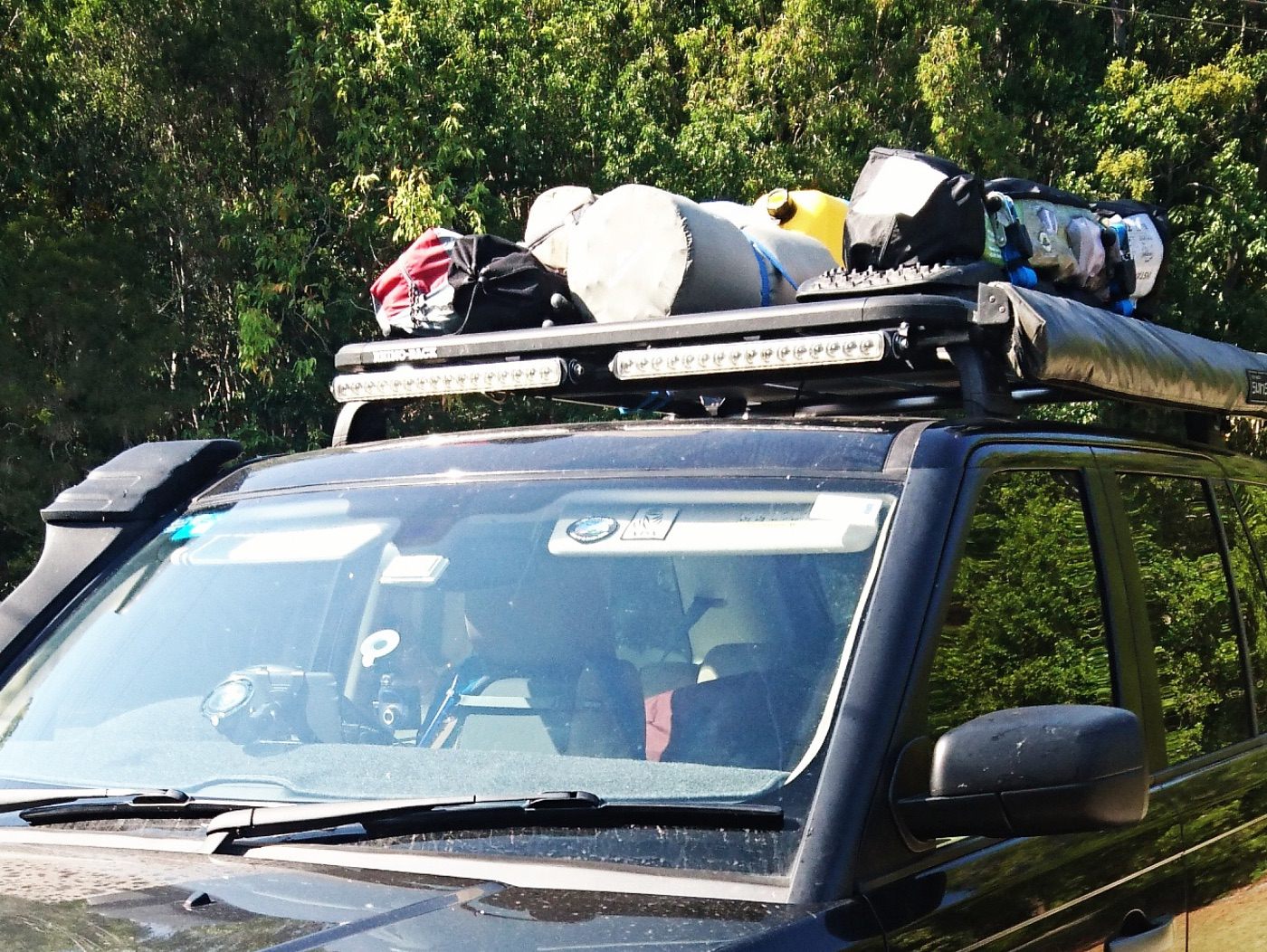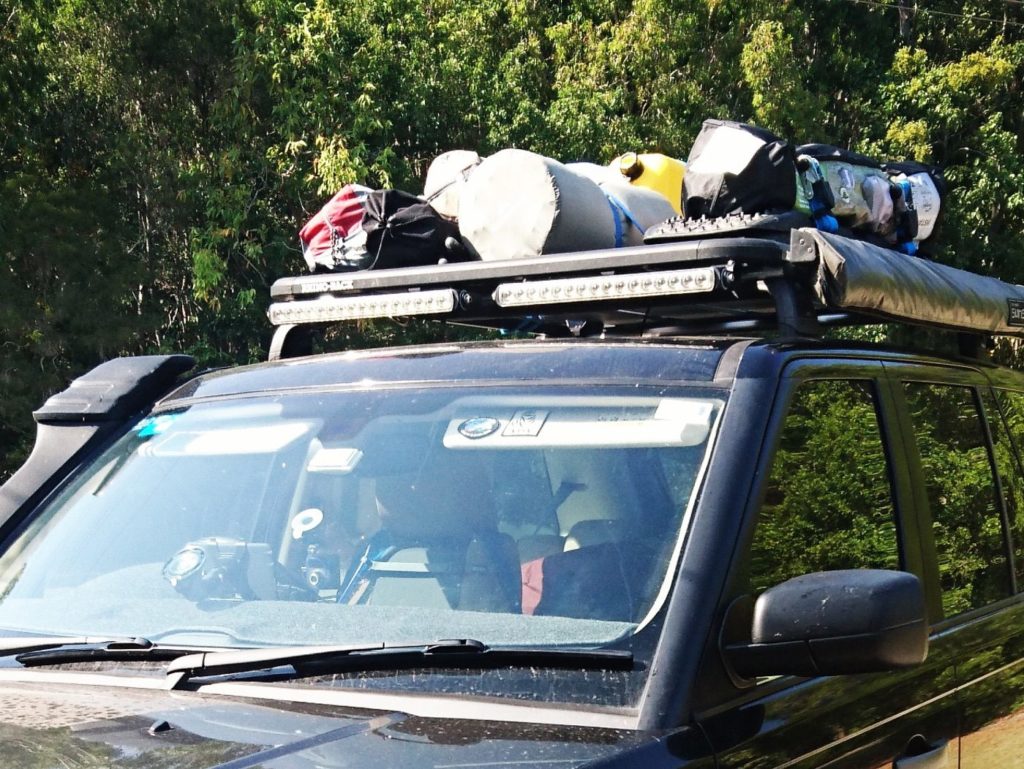 On the first impression, the lights feel very light – a fact backed up by Hella's claim of each only weighing 950g – especially when compared to other 20″ light bars on the market. They don't feel cheap or flimsy though, just light and compact. The lights themselves are streamlined and shaped to give very little wind noise and good heat dissipation. Unlike a lot of light bars, they don't have usual horizontal fins on the back, but instead, feature vertical slats to help with noise and heat.
The lights came with three fitting options, the traditional style mounts for individual lights, a combined mount for two lights to be stacked on top of each other and also some number plate style brackets allowing the lights to be stacked on top of each other. My first thought was to try the number plate bracket but wasn't happy with the positioning of it on the Rangie (it blocked a large proportion of the mid-level air intake which has the transmission cooler behind it) so I mount them up high under the roof rack. I need to add a note here to check your local regulations regarding fitment of lights above the windscreen, some states are a bit grey on this, with other not allowing it altogether. Here in NSW, it's a bit of a grey area, so I have mounted them well under the rack and have a separate switch, so they can be kept off on the road should it be required.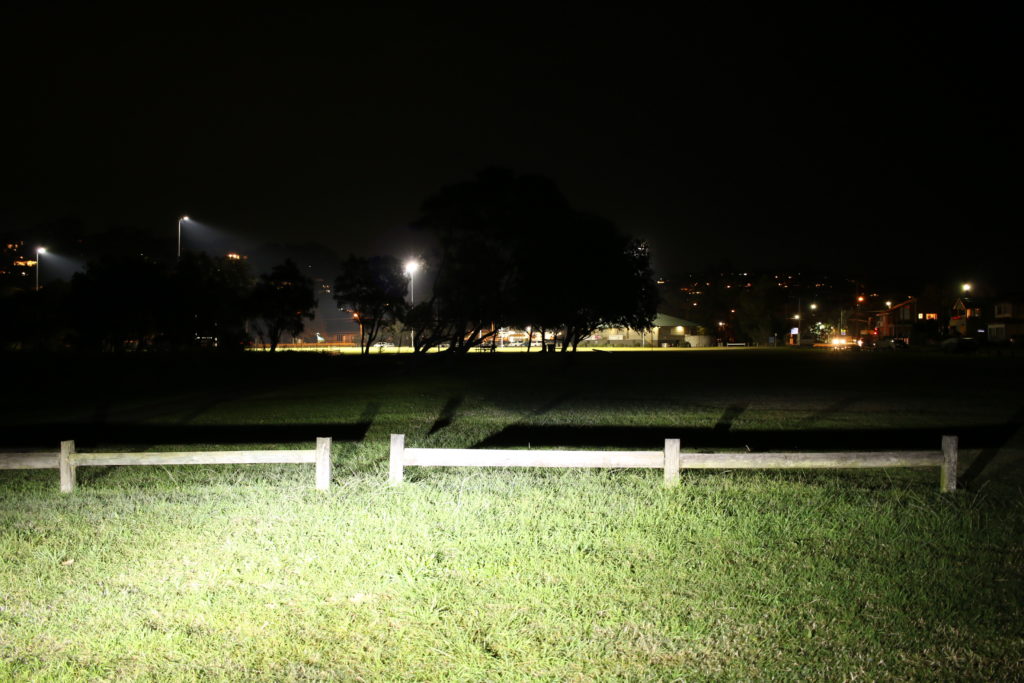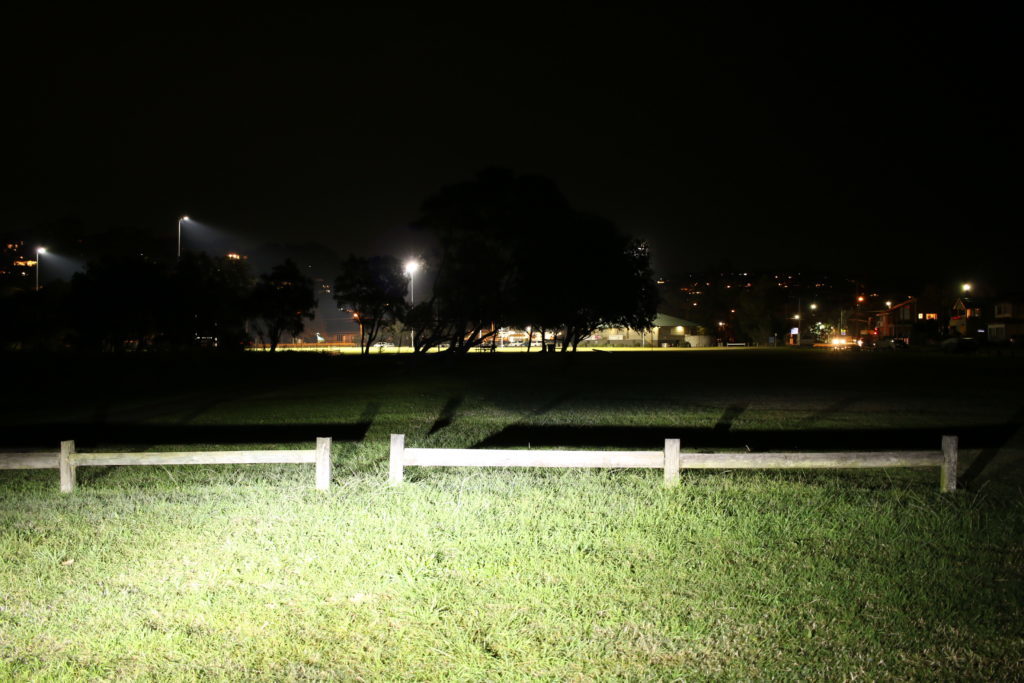 Initial findings
Looking at the lights in daylight, to be completely honest, I was a little disappointed. They didn't seem particularly bright in fact I'd go as far to say they don't seem bright at all and I was a little concerned about how much they would light up the surroundings once the sun went down.
I mounted the lights side-by-side with the pencil beam on the driver's side and the driving pattern on the passenger side. And once night fell I flicked the switch and was pleasantly surprised by the amount of light they generated compared to the standard high-beams. The spread and shape of the beam, however, is quite narrow from both the lights although they do give a reasonable range, which I reckon is about 300-400m in the real world based on my usage. I may need to play with the positioning a bit more, which may in turn help. But currently, I have them set so the light really picks up from where the Rangie's high beam ends.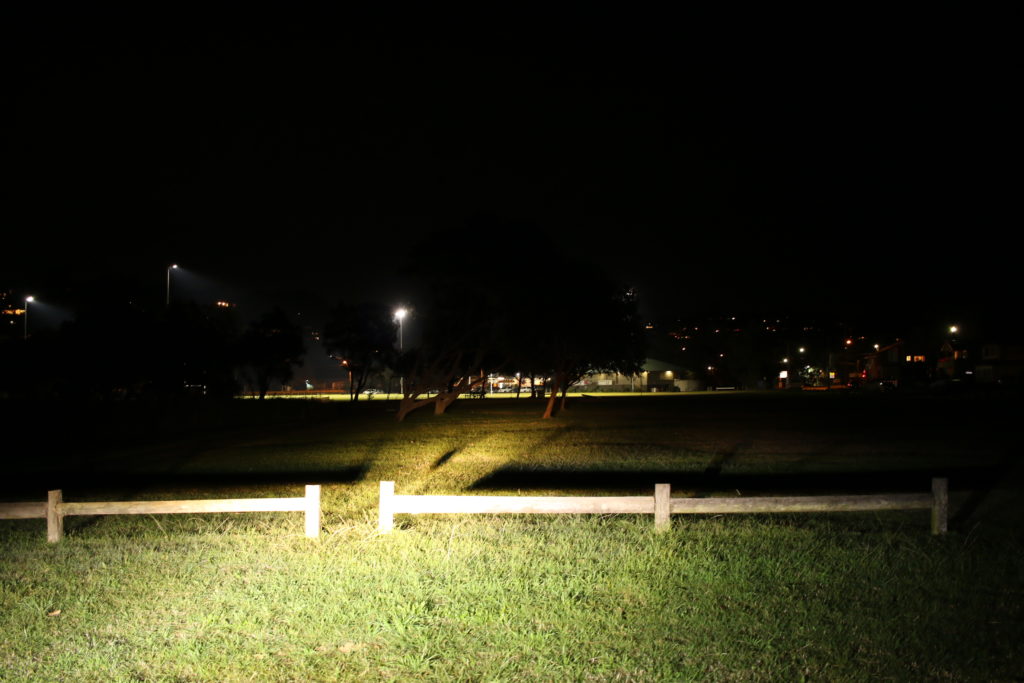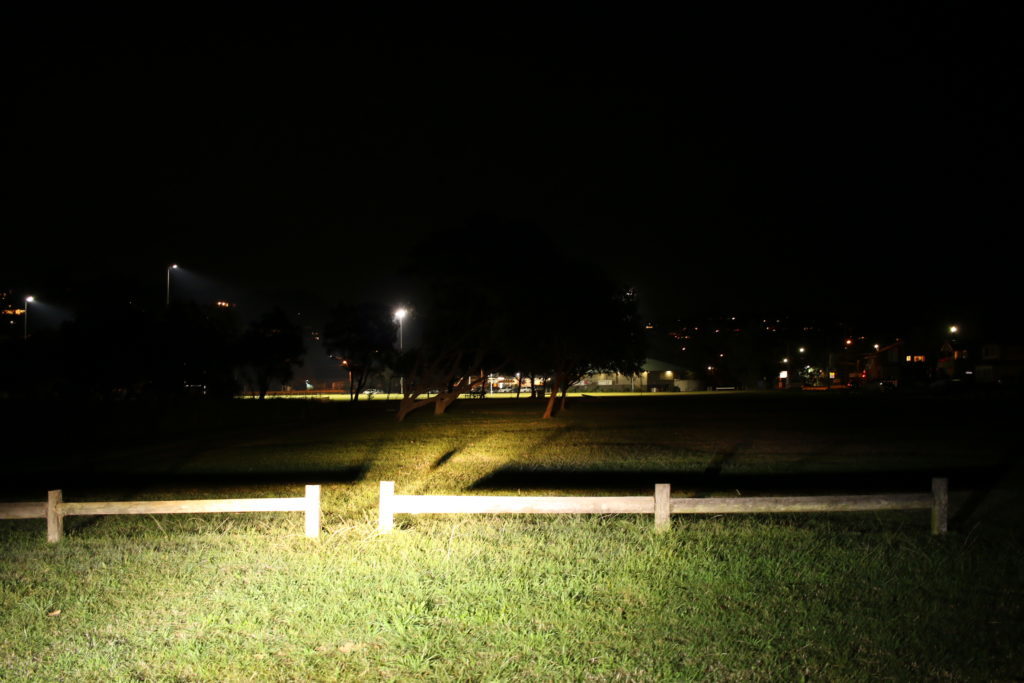 The range is about what I was expecting although I am a little disappointed in the spread – especially as one of the lights is classed as a Driving Light and not a Spot. The light is certainly not as versatile as the single Rigid Industries SR20 I had fitted to a prior vehicle.
The quality of light itself, however, does seem very good, and even though they are mounted up behind the bonnet there is little to no reflection back which to me is a good sign. In fact, reading the blurb the lights have been primarily designed to be high mounted on trucks and 4WDs so perhaps this issue has been considered when designing the reflectors.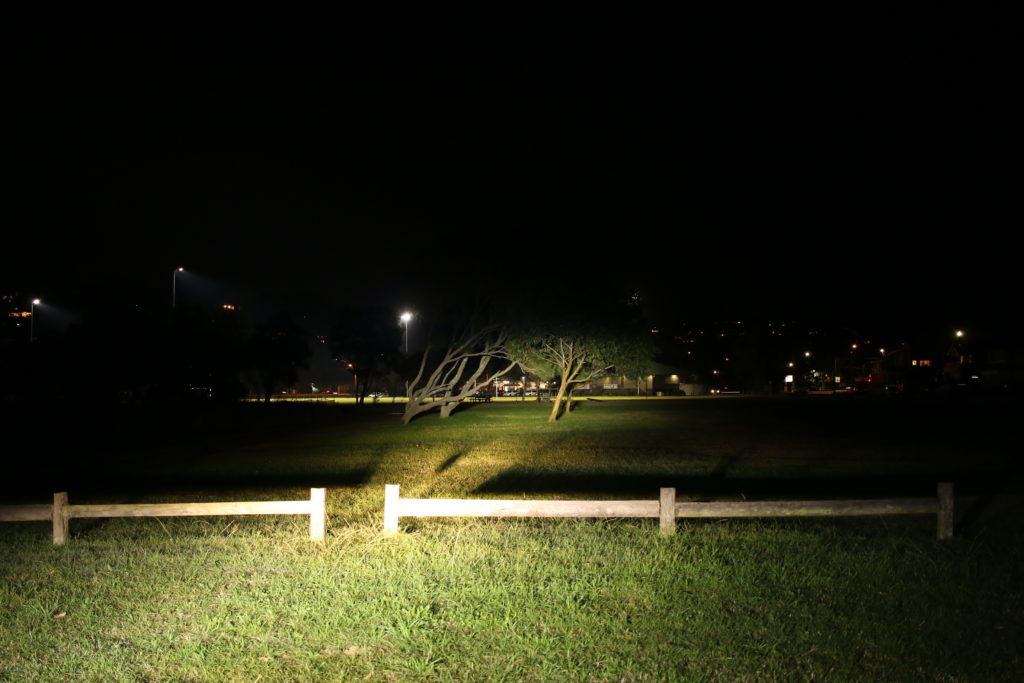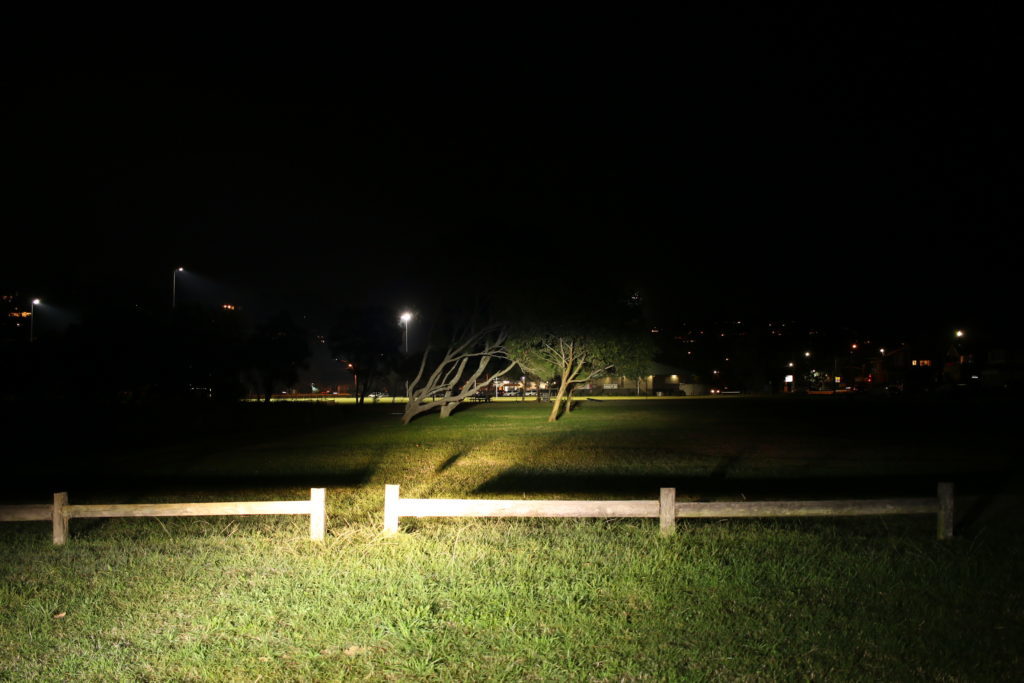 For off-road work, I've found these lights to be adequate, not spectacular as the price might suggest. To be fair if they were priced at around $250 each I'd say these lights were a pretty good performer, but at around double this, I can't help feeling there are better options out there for the same or less money.
One good thing I have found though is that due to the very slim profile they don't get caught up and do tuck in nicely under the rack. However, for long-distance use, you may want to add in a traditional pair of spotlights or HIDs which could give a longer range. I'll certainly be considering adding a set of driving lights before my next outback trip though.


Features:
19" (470mm) long and low profile and lightweight at only 2 pounds (950 g)
Developed for the special requirements of off-road vehicles and for aerodynamic installation on the roof of truck cabins. But due to its slim design, it can be mounted in various spaces on heavy-duty trucks, pickups and cars
The rear of the housing is an innovative ribbed design
Effective heat dissipation from the LED electronics through the housing made of thermoconductive plastic
Suitable for horizontal mounting
Stainless steel mounting brackets allow flexible positioning on the vehicle
Double mounting bracket available (sold separately)
IP 67 (protection against dust and temporary water immersion)
IP 69 (protection against dust and high-pressure/steam jet cleaning)
1900 Lumens
Specifications:
Voltage: Multivolt 9-33V DC
Beam Pattern: Driving Beam, Pencil Beam
Number of LEDs: 16
Power Consumption: 35W
Luminous Flux: 1900lm
Light Temperature: 6000K
Weight: 2 pounds (950 g)
Connection: Wire Leads
Mounting Bracket: Stainless Steel
RRP $537.97 each