Our first trip as LastXplorer was supposed to go without a hitch and it did… almost
A rough plan was beginning to formulate. We wanted to go somewhere exciting, worthy of a first trip. But it also needed to give us chance to recharge the batteries and regain that all important focus after months of planning and stress.
After many calls back and forwards, bouncing ideas around – including some completely and outlandishly epic trips which would have taken a year to plan – fate stepped in and made the decision easy.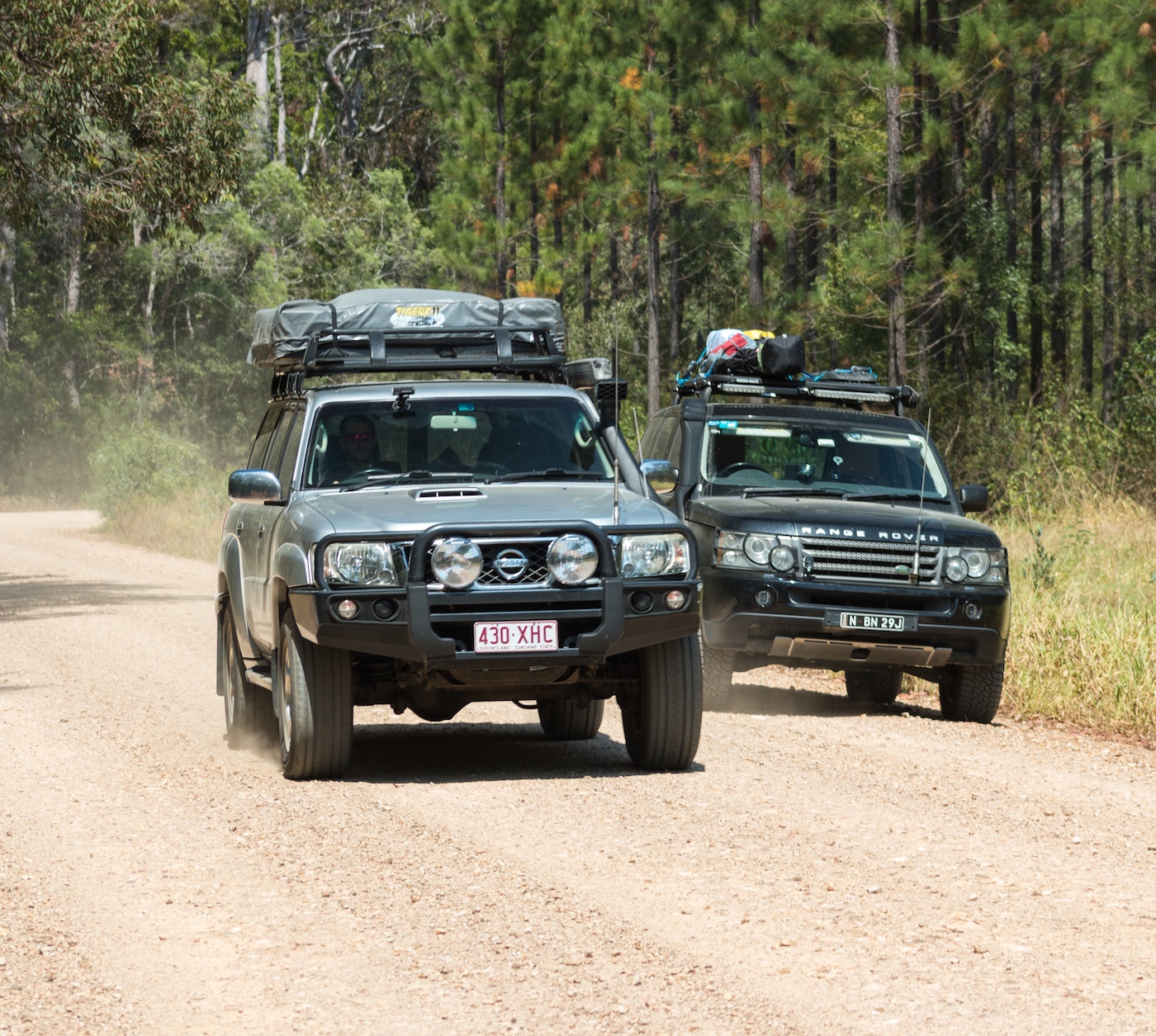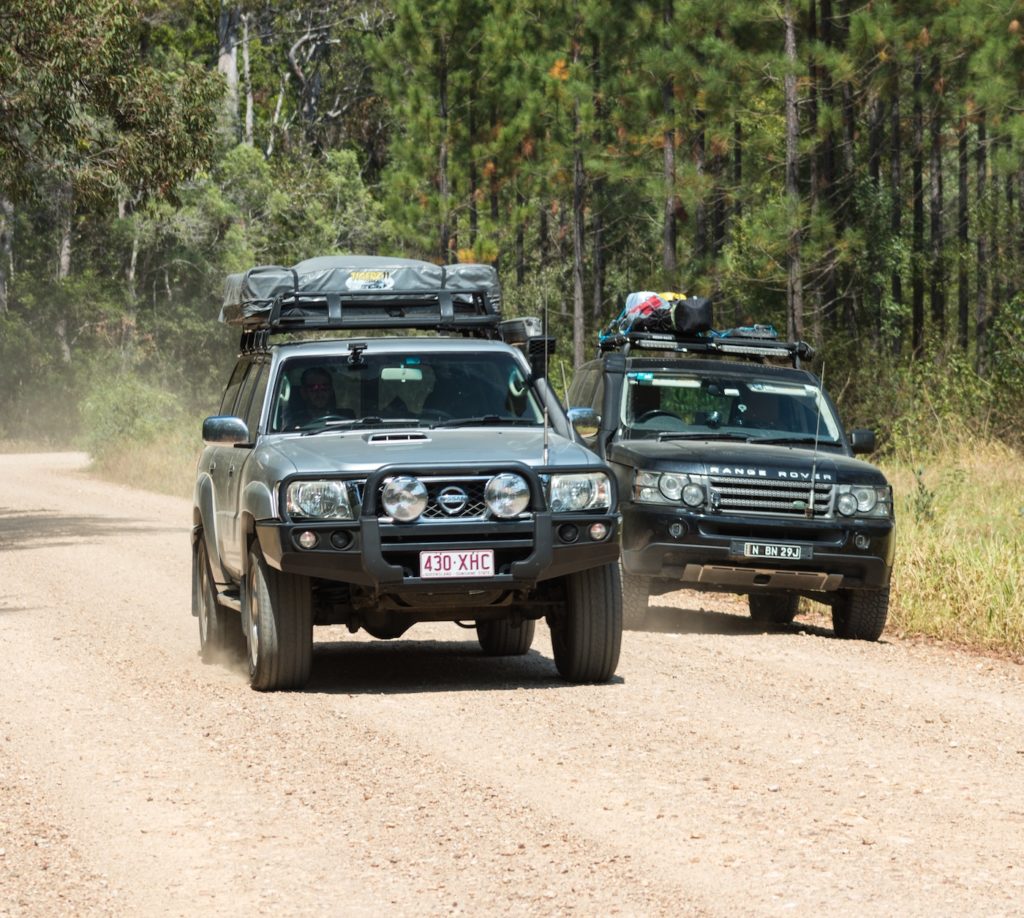 I'd been talking to a mate up in Queensland about being involved in LastXplorer and during those discussions we were invited to camp over at his place in the Sunshine Coast Hinterland. So, with that in mind we were heading to Queensland. Now for James (Hillboy) this is a short two-hour trip north, but for me just getting there is a bit of an epic in itself, and this was also the cause of some stress in the planning process.
Now I know my Rangie is reliable (in Land Rover terms) having covered over 20,000km in it already with only a few minor niggles (mostly down to age and wear and tear/user stupidity) but with this trip I'd be covering around 3500km in about ten days. So, there were some concerns jumping around in the back of my head. After all it is a Land Rover.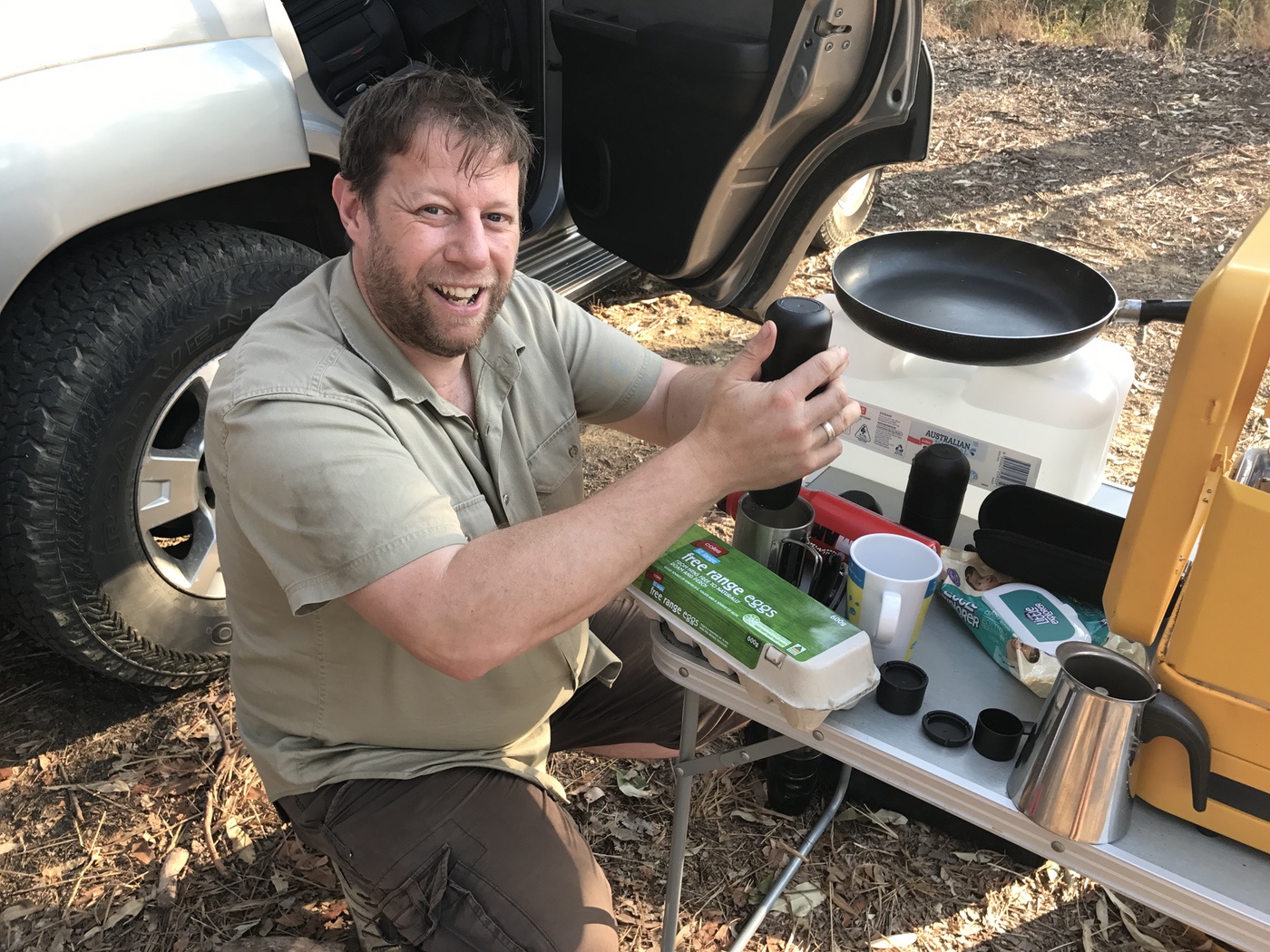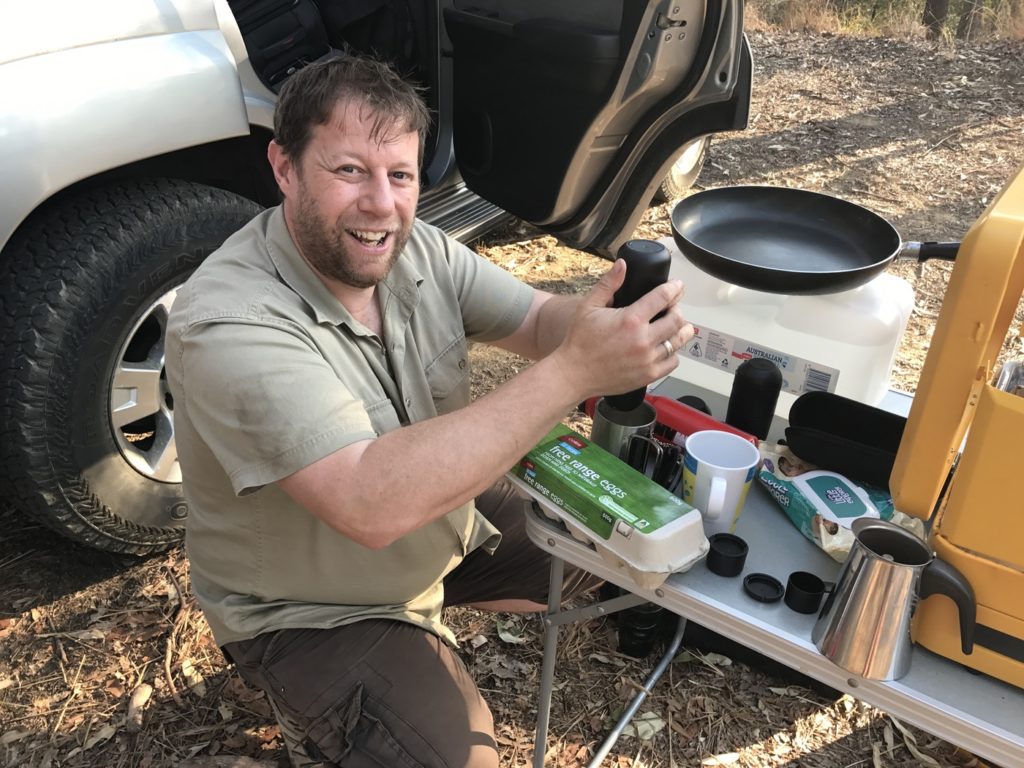 So, with this stopover organised we then had to just finalise the final destination. Which to be honest, was pretty straight forward. Fraser Island it would be.
Lists were made and checked off and soon my departure date was getting near. All the gear was organised and packed. I'd even purchased a cheap roof top bag from Aldi to hold a lot of my camping gear in. I was set and ready to go – or so I thought. You know when you get that nagging feeling in the back of your head, about seven hours from home, that you may have forgotten something, but not sure quite what it is. Well, that was me not long before reaching Byron Bay on the NSW North Coast. When I pulled in for fuel, a quick check round revealed I'd not only forgot to pack my camp chair but also my small hiking tent. Bugger.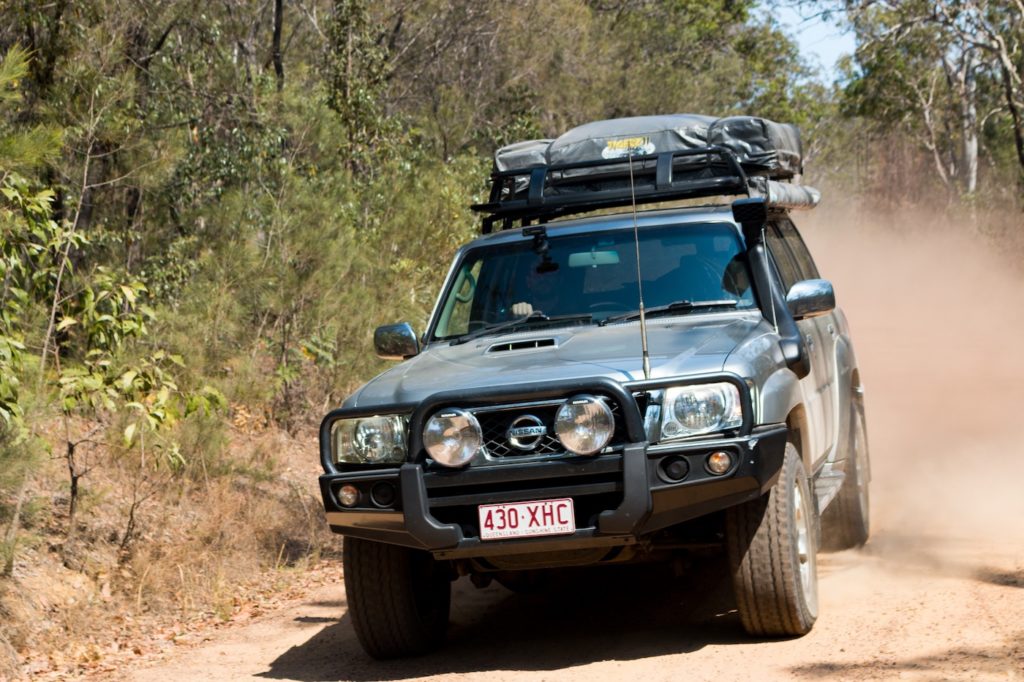 With this discovery, it was a quick jump onto Google to find the nearest outdoor store which would be open on my arrival to the Gold Coast. Tentworld was found and loaded in. New tent and chair purchased, and journey completed (I'd discover my chair and tent were still stacked up against the garage wall waiting for me to load up on my return). Not the end of the world but an expense I could have done without. Lesson learned.
Well the first leg was sorted I'd made it to the Gold Coast in one piece. I was meeting up with James before leaving to head further north tomorrow.
Before turning in for the night I wanted to check over the gear on the roof racks. It was here I discovered the Aldi roof bag had disintegrated over the first leg and wasn't going to work anymore. Just shows you get what you pay for sometimes. All credit to Aldi, it was returned once back in Sydney and I was refunded the full price.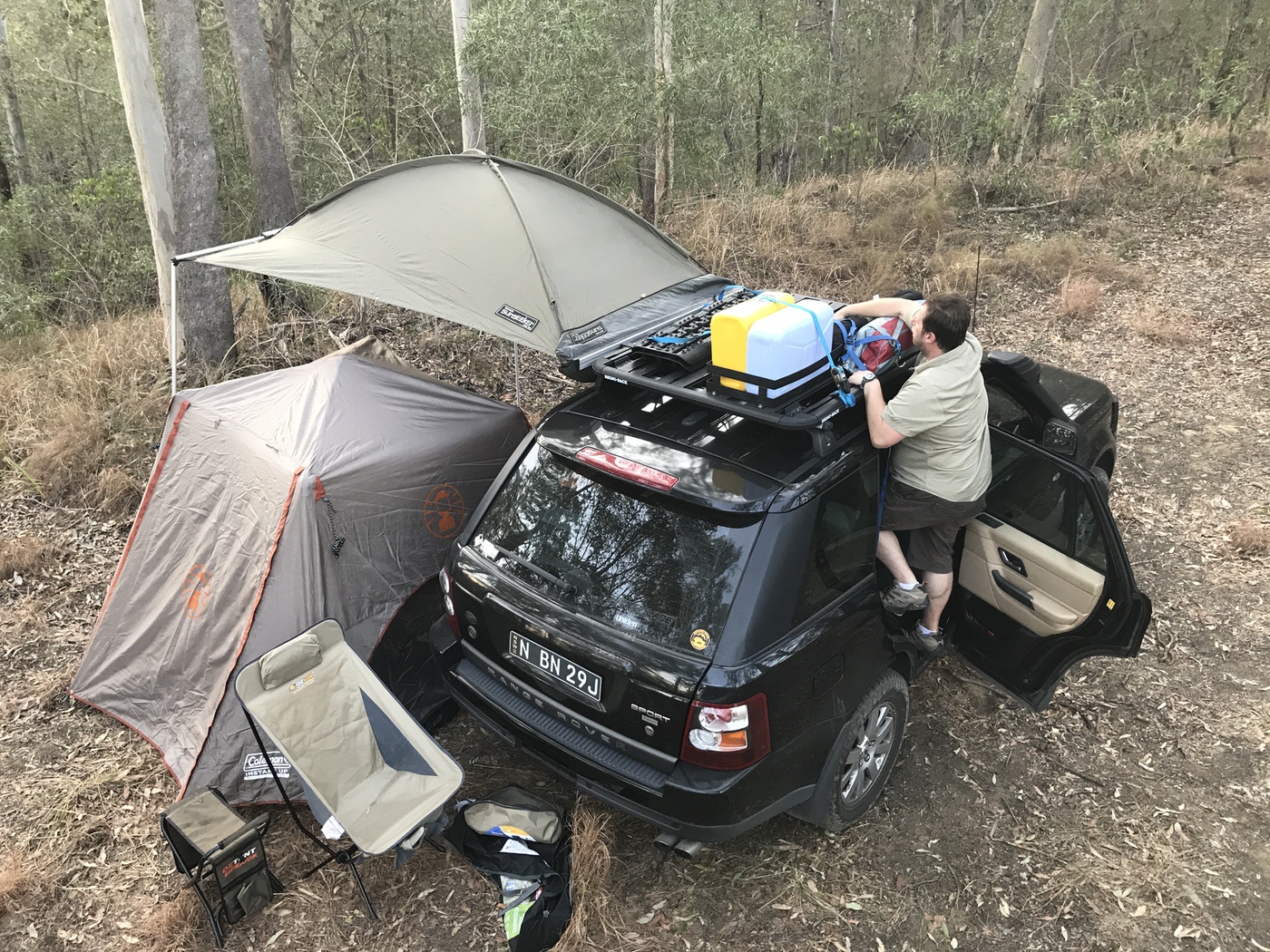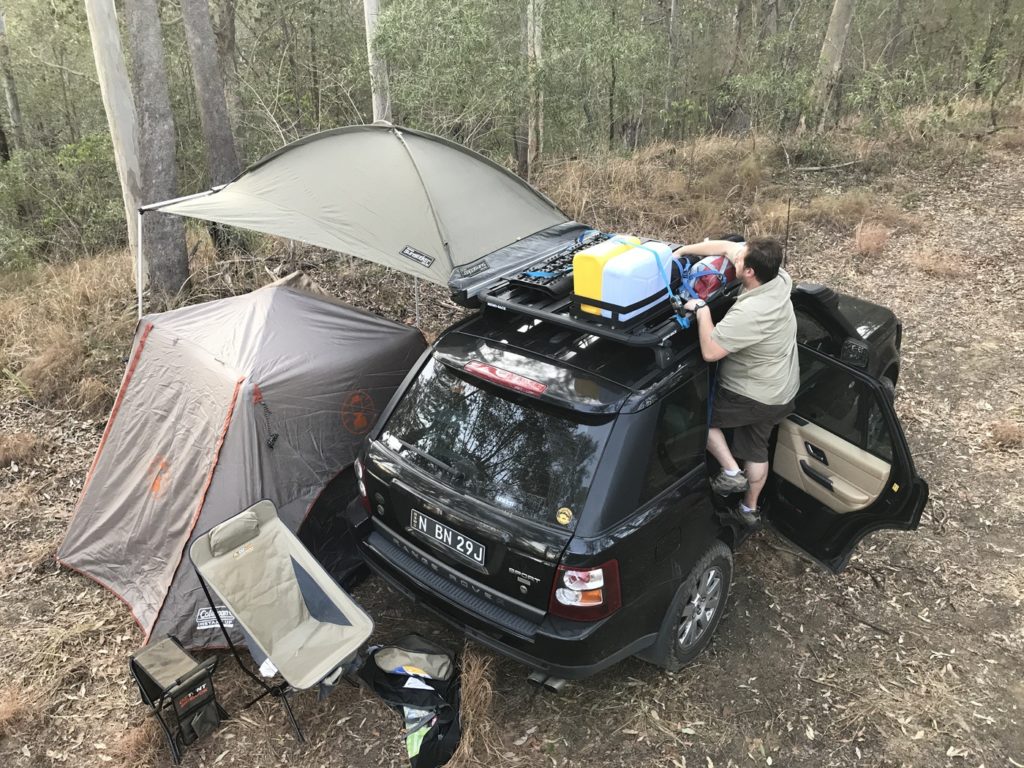 After a restless night fending off an attacking mozzie or two, we awoke early, and after a quick stop for some last-minute supplies jumped on the freeway and headed up the coast. It wasn't long, however, before the curse of the Range Rover struck. My suspension light came on. Now I'd been using adjustable rods and set them all so the Rangie stayed in extended (off-road) mode, and had just done a lane change just before the light came on, so wondered if it was to do with that and the extra weigh up top causing something weird to happen. Turns out I'd not quite locked in one of the height adjusters properly, and it must have moved enough to throw the warning light. Oops. Easily fixed and after a restart the light was gone. Lesson learned – don't rush things and learn how to fix your vehicle.
We made it to our mate's place by early afternoon just in time for a quick tour and to set up camp before settling down in front of the fire. Many tales were told that night, most of which can't be repeated on LastXplorer, so you'll just have to take our word for it, but a great time was had by all.
Needless to say, we all slept well that night and the gentle breeze seemed to help no end. Next morning, feeling a little dusty, we packed up. I took the opportunity to move some stuff around, so the centre of gravity was a little lower before heading over to Fraser.
Rainbow And Inskip, But First...
I'd made the call that we would have enough time, that instead of heading straight to Inskip Point we should take in a little short cut I knew about. It knocks a fair few highway kilometres off the trip whilst giving us chance to explore some of the Noosa back country and also pay a visit to Harry's Hut. I'd worked out if we didn't get held up much today we'd also easily get to Rainbow Beach in time to book the barge tickets for the morning, thus meaning we could leave nice and early.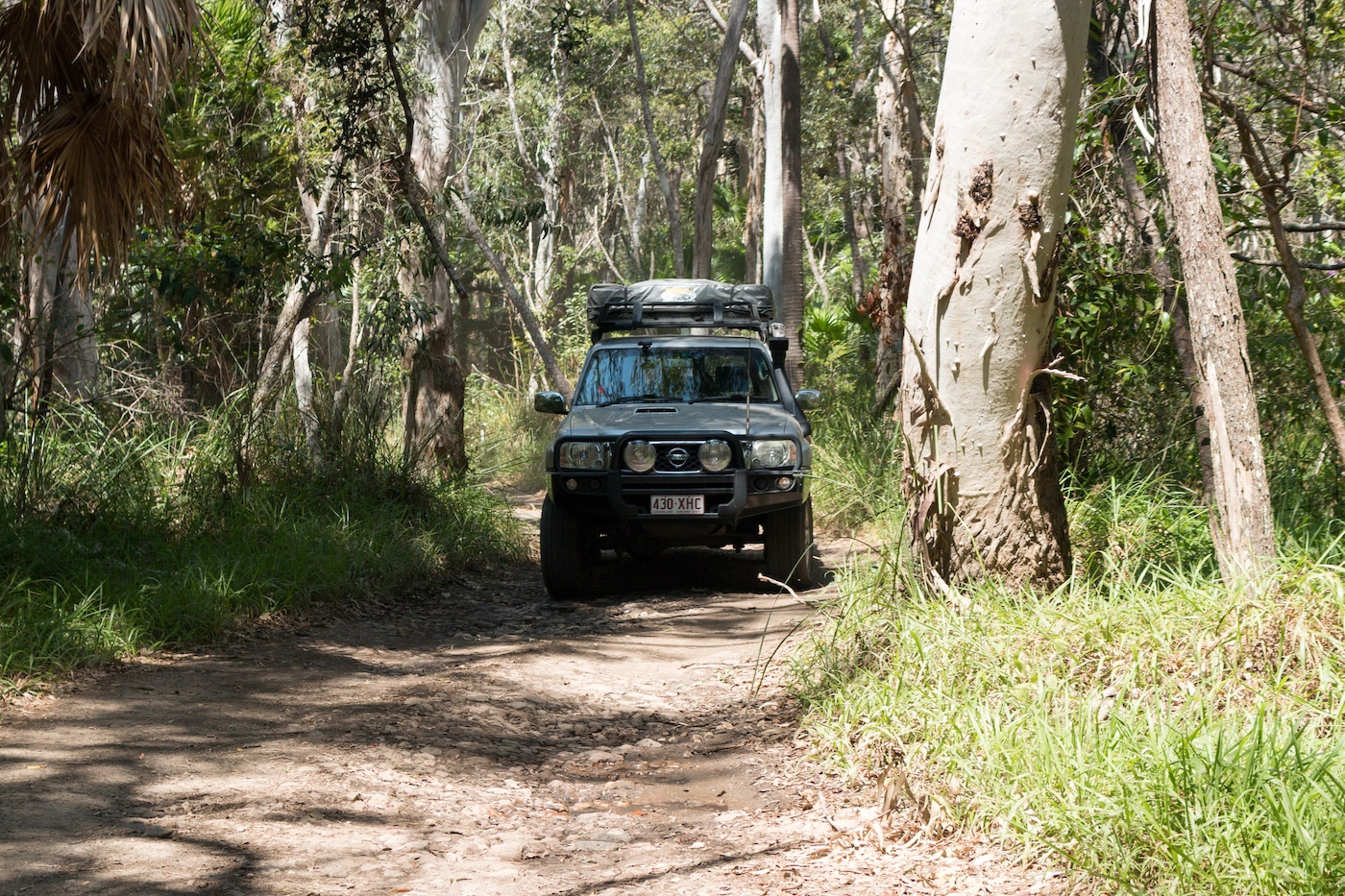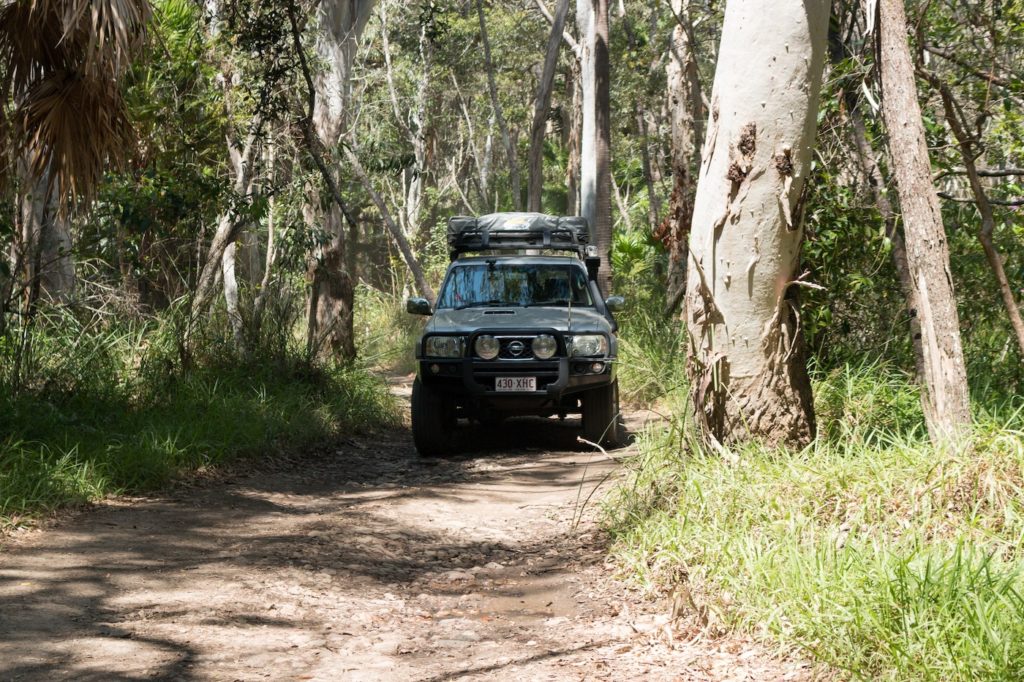 Just outside the town of Kin Kin we followed Kin Kin Road and followed the signs to the Cooloola Way. As we got nearer the tar turned to dirt and it was bumpy enough to warrant airing down a little. Now depending on the weather, the Cooloola Way is either a bumpy but easy track or if there's been rain it can quickly turn in to a sloppy mess. As it hadn't rained in this part of Queensland for a good few months it was definitely going to be the former, which meant our progress should be straight forward (a quick search on YouTube will show you how bad it can be). The route itself offers great scenery along the drive although there is some commercial logging in the area it is relatively limited, a certainly doesn't ruin the trip in any way. After about an hour or so we took the turn off to Harry's Hut.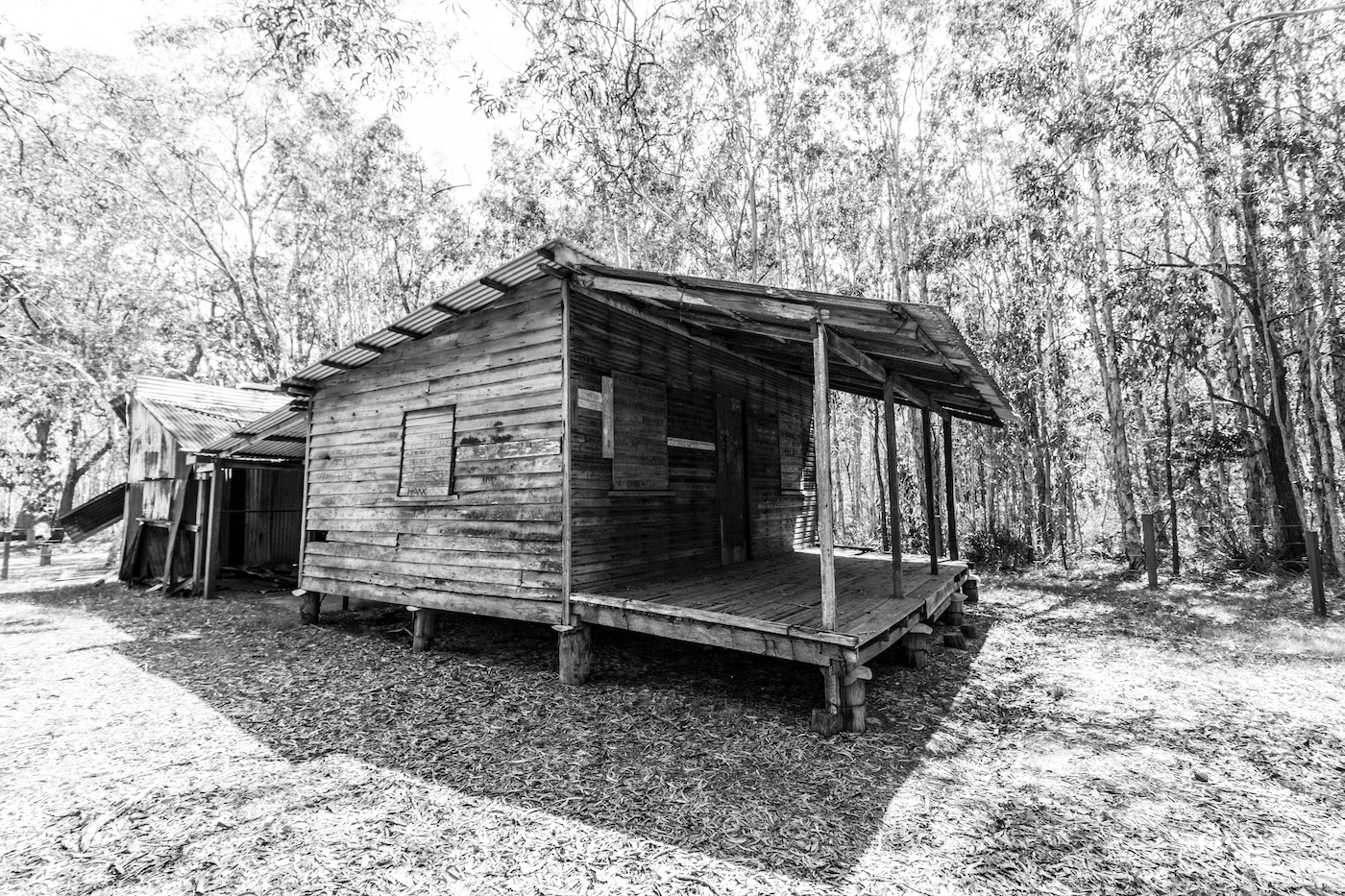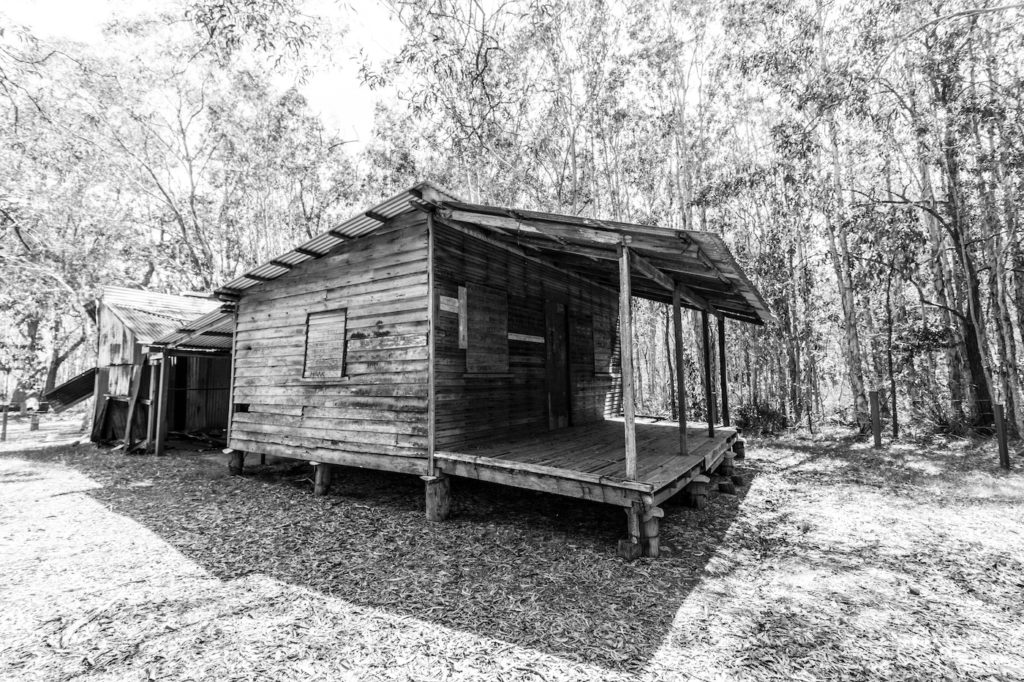 The hut is set on the banks of the Noosa river and is a great spot to launch a canoe or kayak from. Harry's Hut is named after Harry Spring, who purchased the hut in the 1960's. It was originally used as a logger's hut and was in use until the 1950's. After a good look around and the obligatory photos we back tracked up Harry's Hut road and re-joined the Cooloola Way. From here the track got noticeably more rutted and in parts progress was slow. You certainly wouldn't want to try it in smaller SUV or camper without taking a lot of care.
We continued on for another couple of hours with the track changing from hard dirt to soft sand and dust in places. You just needed to be alert as some areas had hidden ruts just behind the hill crests waiting to catch you out. One or two were particularly rough. It wasn't long however, till we re-joined Rainbow Beach road.
Last Night On The Mainland
After a gentle drive into Rainbow Beach on lowered tyre pressures, we stopped in at the Manta Ray Barge offices to book our tickets for the next day. We also collected stickers for the permits we'd already purchased online. From here, it was a short trip into town to top up the tanks and grab a late lunch.
Normally this is a straight forward occurrence, and is for most people, unless you are a complete clutz (or me). Now I'd also brought along a jerry can for fuel which was mounted to my roof rack, no problems there you might think, and getting it down was easy. Only getting it back up was to prove to be somewhat more tricky. When I say getting it back up, I of course mean me getting up there to re-attach the now full jerry can with slippery diesel covered shoe soles. Not sure what happened, but I lost my footing, ended up on the deck and had a full fuel can sitting on top of me. I thought I'd broken my leg at first and the trip was over before it had begun. I was lucky… turned out to be a bad bruise and a couple of cuts (now with fuel in them). But other than that, I was okay.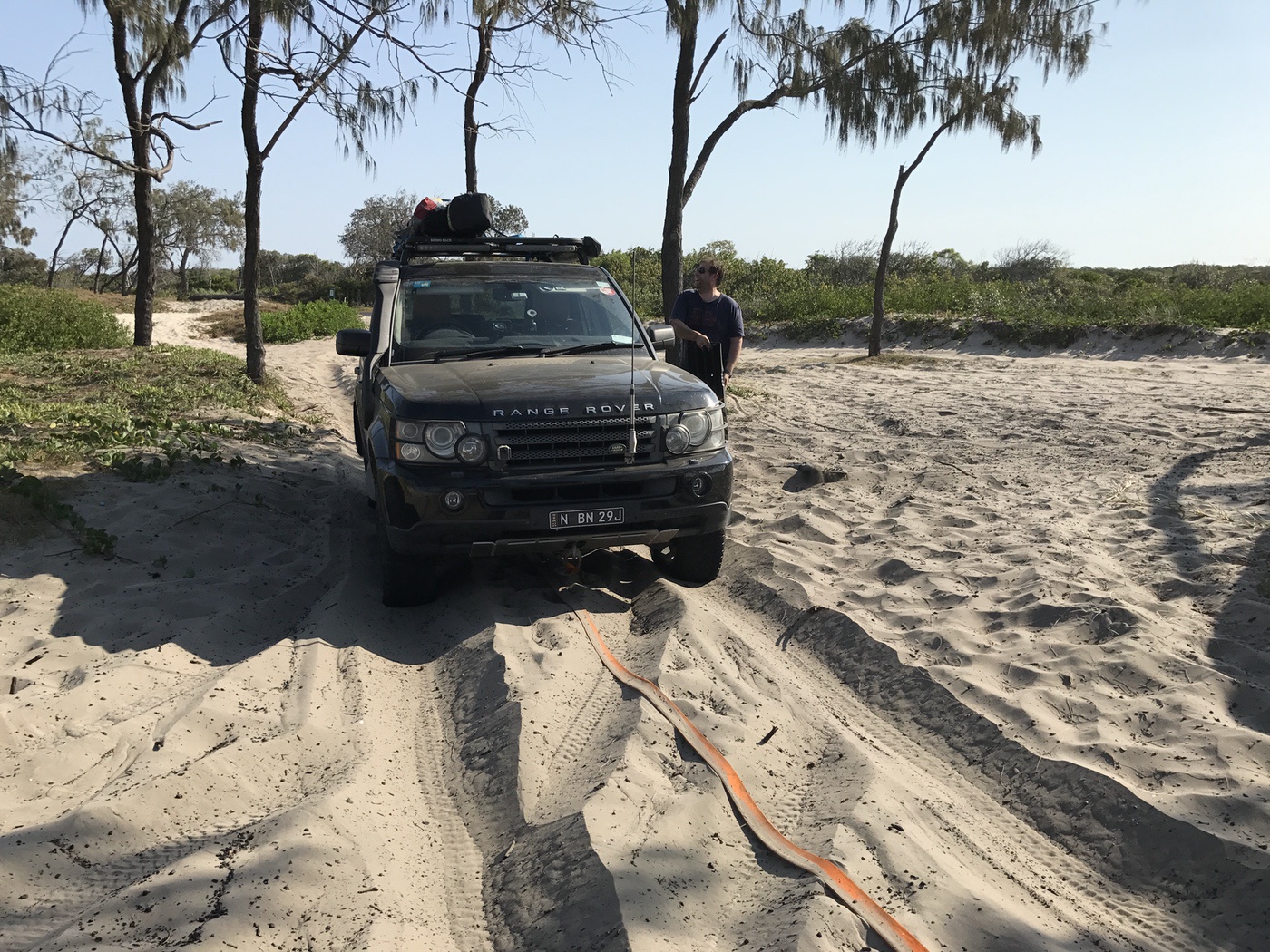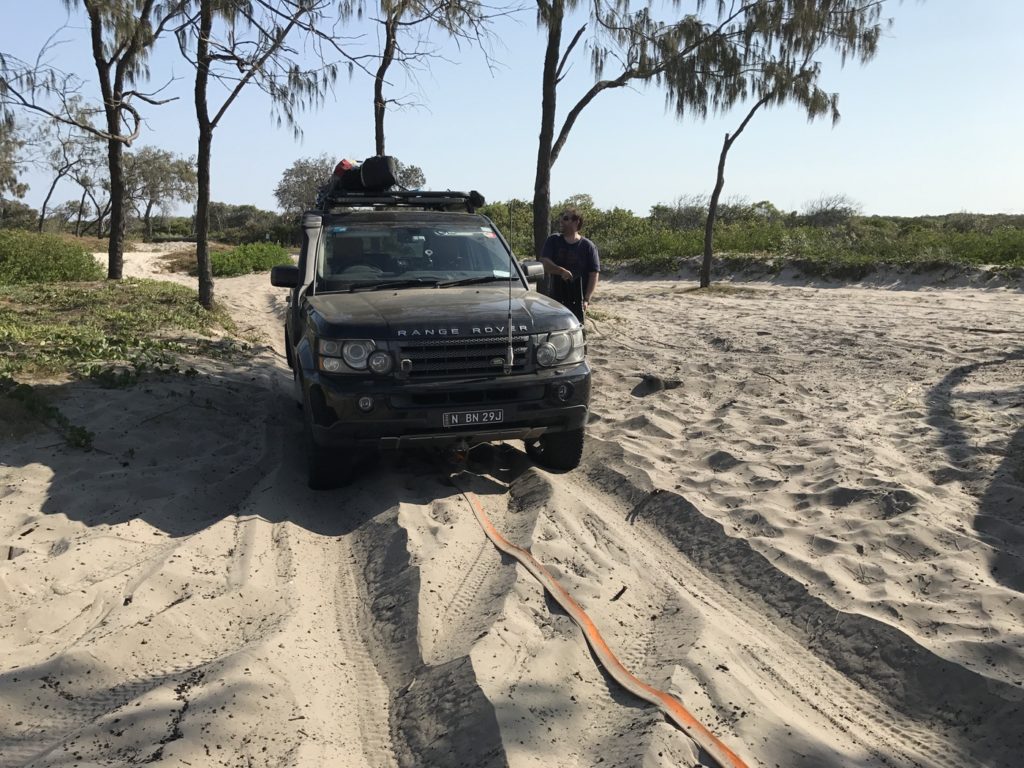 From here we headed out to our campsite – I was thinking nothing else could go wrong so far as it'd been a bit of a catalogue of errors on my part so far. But oh no, Murphy raised his head again. As we pulled into the campsite there was a very soft section, James got through just, but it slowed him down. Which, in turn lost me all momentum to get through said soft sandy section. I came to a halt. Tried to back out and ended up sinking further. An hour later I was free after letting more air out of the tyres and using a combination of TREDs and snatching. To say it was a touch embarrassing would be an understatement to say the least.
We set up camp and began to reflect on the last few days as we tucked into pork tacos. What a great spot this was and if the rest of the trip (despite the couple of setbacks) was going to be this good, we were in for a treat. To cap it all off we were treated to one of the best sunsets I've seen in a long time.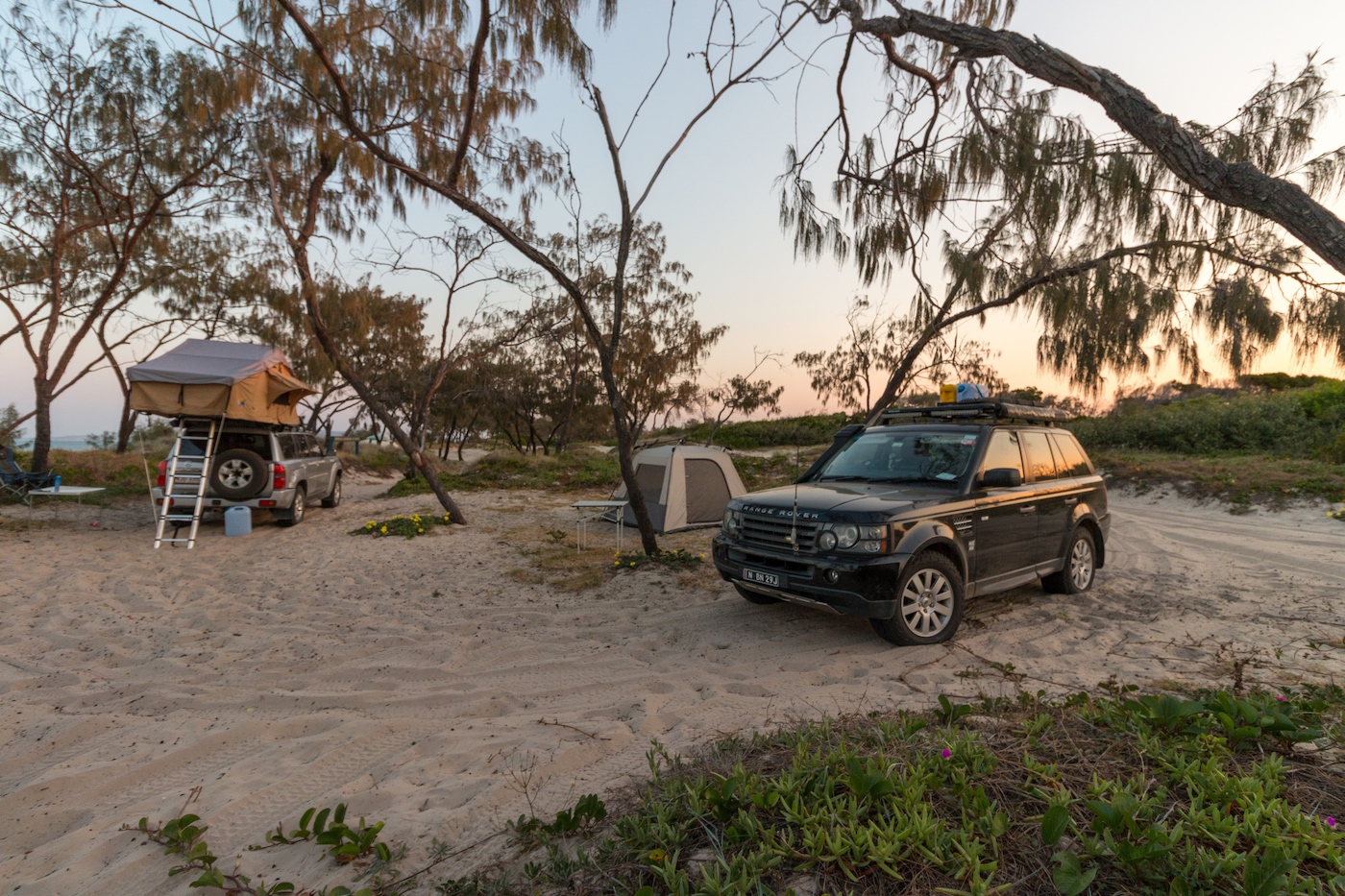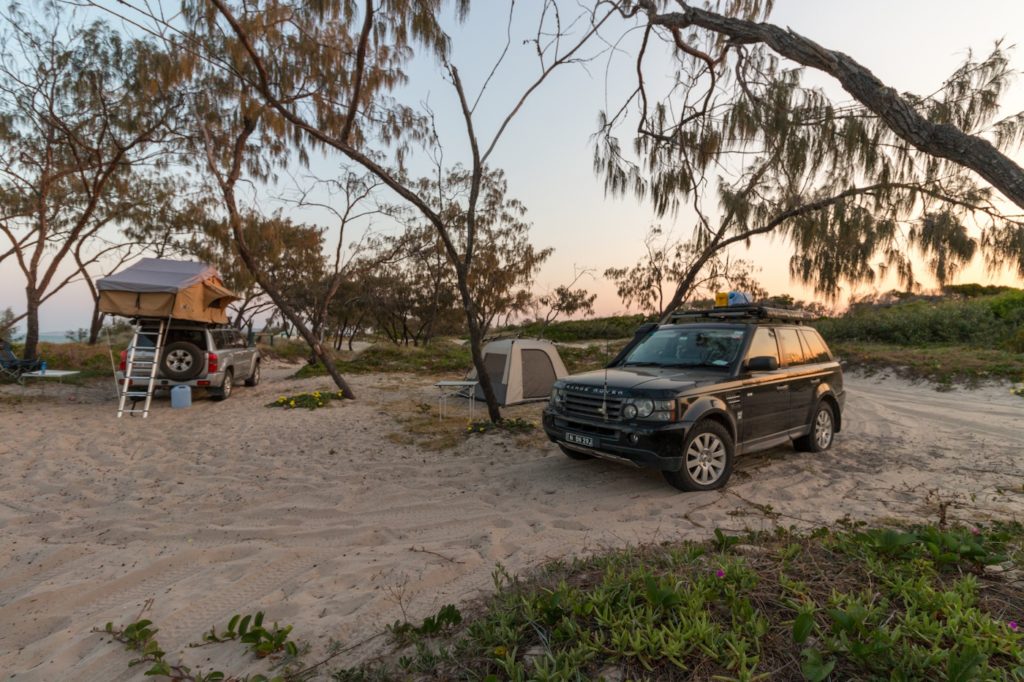 I slept well that night with the sound of the waves crashing in the background. Although I woke early, keen to get going and get onto Fraser as soon as possible. We had a fairly busy schedule and I know we both wanted to make the most of it.
After breaking camp, we headed down the beach to the barge point. We only had a short wait and we were on. The crossing from Inskip Point only takes a few minutes and you can feel the excitement and apprehension, in equal measures, of the passengers grow as the barge nears the Island. How soft would it be? Would I make it past the first corner? How high up the beach will the tide be? These questions and many more were written on the faces of our fellow travellers. We would all soon find out as the ramps lowered and we each made our way out onto the unknown.
Limited Offer - Get The December Issue Free
Just to say thank you for stopping by…
For February only, you can get the December Issue of LasXplorer free.
This is a rock solid issue with some very cool trips in it! Click here to get your free issue.